OPTIONS TO AVOID FORECLOSURE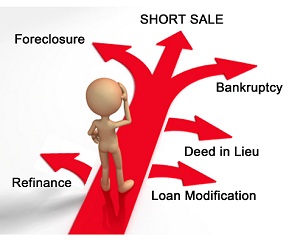 RE-INSTATEMENT
You simply pay ALL missed payments plus any other outstanding fees Owed to your Lender.  You have the right to RE-INSTATE up to the day of the Foreclosure Sale.
LOAN MODIFICATION
This involves applying for and negotiating for a Lower Payment, including Lower Interest Rate, Reduction on Principal Balance, Longer Loan Terms or a Combination of these modifications.  If the lender is unable or unwilling to modify your Loan they typically will offer the Borrower a Re-Payment Plan or a Forbearance Plan, which puts any unpaid payments at the back end of their Loan.
DEED in LIEU
The Borrower asks the Lender to take the Property back.  This option does require the Lender to Agree to take the Home back.  Lenders usually prefer, and many times require, the Borrower to try a Short Sale first.
BANKRUPTCY
Bankruptcy WILL NOT STOP a Foreclosure, it will only Delay it.  If a Borrower has Substantial Non-Mortgage Debts that are causing a Shortfall of paying their Mortgage Payments each month, then filing Personal Bankruptcy can eliminate these Debts and could be a possible solution for the homeowner.  Seek Legal Advice to see if this is an option for you.
REFINANCE
If Borrowers Credit is still GOOD and the property has Equity in it, this could be a possible solution.  Speak to your Lender about a Traditional Re-finance as well as seeing if the "HARP" Refinance Program would be an option for you.  The HARP Refi allows Loans up to 125% of Appraised Value.  If your Loan is owned by Freddie Mac or Fannie Mae and you have NOT been late on a Mortgage Payment, the HARP might be an option for you.  Call your Lender to see if you qualify.
SHORT SALE
What is a Short Sale in Arizona? A SHORT SALE is the sale of a property where the seller's current home value plus closing costs total more than they owe their lender.  The Lender then agrees to take an offer which is less then what is currently owed on the property.  To qualify for a Short Sale the Homeowner would need to show a current or forthcoming Financial Hardship.  A Hardship can be defined as a change in your financial situation, which could include, but is not limited, to a Mortgage Payment Increase, Employment Loss or Change, Divorce, Excessive Debt, Forced or Unplanned Relocation and More….
As you can see there are MANY Options that might work best for you.
This Website hopes to inform you about what is a Short Sale in Arizona, as well as all of your other Mortgage Crisis Options.
CALL us TODAY for a FREE CONFIDENTIAL NO OBLIGATION Evaluation of YOUR Situation.